Published on
Vocational education institutes join forces for the energy transition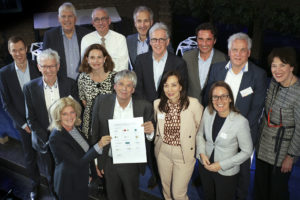 Educating sufficient and skilled professionals for the energy transition and the consequent innovations. 20 vocational institutes, a.o. Energy College organisation, are joining forces with corporate organisations to make the climate- and energy agreement a success in the senior vocational education (also known in Dutch as 'mbo'). Tuesday the 17th of April they emphasised their agreements by signing a manifest, launching the national action plan 'De Uitdaging' ('The Challenge') for climate and energy.
Skilled professionals are crucial
Skilled proffesionals are crucial for the realisation of societal issues such as the energy transition. Robert Koch, director of the Tech Campus ROC Midden Nederland, emphasises the importance of vocational students for the energy transition. 'A new demand arises from entrepreneurs and corporate organisations. They are in need of a skilled work force able to redesign buildings, make transport sustainable and to use sustainable resources. As an educational institute  it is necessary to anticipate to this urgent demand.'
Action programme 'The Challenge'
Many vocational schools are already successfully collaborating with companies in their region. At the same time, they realise that they are facing comparable challenges as education centres. We expect to make big steps by joining forces on a national scale on the topics of energy and climate. This is now executed within the programme of  'The Challenge'.
Collaboration of entrepreneurs, education and government
The leading group of vocational institutions will be collaborating with companies, branch organisations and universities of applied sciences' Centres of Expertise. This collaboration offers the opportunity to exchange knowledge and to quickly translate this into the regular education and the education of professionals, meeting market demands.
More information:
Sign up for 'De Uitdaging'
Energy College, partner of New Energy Coalition, representing 7 regional vocational education institutes of the Energy Valley Region, is a participant in 'De Uitdaging' programme.