Published on
H2 #No Bubble symposium – the hydrogen symposium for the transport sector and passenger mobility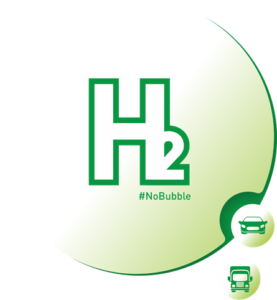 New Energy Coalition co-organises a symposium about the use of hydrogen as a fuel for passenger cars and heavy transport, in collaboration with initiator Green Planet and Gasunie New Energy on Wednesday 23 May 2018. The symposium takes place at the headquarters of TVM, one of the largest insurers in the transport sector.
Hydrogen is a convincing energy carrier. Hydrogen combines the benefits of electric driving with those of traditional fuels and is therefore a very adequate fuel for the transport industry. Passenger cars and transport vehicles driving on hydrogen have a large cruising radius and can be quickly fuelled.
The symposium offers an interesting programme where different parties will be given an opportunity to exchange their knowledge and experiences. The Dutch Ministry of Infrastructure and Water Management will share how they aim to stimulate more sustainable and cleaner mobility and transport. Afterwards, professor Ad van Wijk will explain why hydrogen can't be missed in our future energy provision. Thereafter several companies will go more deeply into the opportunities and developments in the sphere of hydrogen.
You can apply for the H2 #No Bubble symposium via www.waterstof-symposium.nu.