Published on
Energy education recruitment campaign launched: Choose wisely, follow energy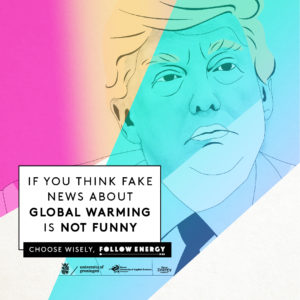 This week, the Hanze University of Applied Sciences, the University of Groningen (RUG) and New Energy Coalition launched a joint campaign to recruit energy students. The campaign is to draw students' attention to existing study options in the field of energy. Those "energy paths" were developed to meet the huge future demand for energy professionals.
The energy transition relies heavily on new experts, professionals and researchers from all disciplines beyond  technology and engineering, who can create a sustainable future. Study fields like energy law, behavioural science, economics, architecture, IT – the energy transition touches upon everything. This new knowledge is being introduced into the education system in Groningen and made widely available.
From coal to gas to …
Logically, this knowledge of energy and the energy transition is concentrated in Groningen and the surrounding area, the energy valley of the Netherlands. This is where the previous energy transition took place: from coal to gas. That resulted in a substantial amount of knowledge and expertise. For example, the Faculty of Law at RUG is a world-renowned authority in energy law. The knowledge and experience is now being used for the new energy transition and is a spearhead for research and education at Groningen's knowledge institutions.
The campaign initially focuses on current students of Groningen, but can also act as a guide for students elsewhere and prospective students. During the coming weeks, the campaign slogan "Choose wisely, follow energy" will be shown along the cycle route from Groningen's  town centre to the Zernike campus and online on sites including Facebook and Instagram. There is also a special campaign website:  www.followenergy.nl.