Published on
Save the date: World Energy Council Conference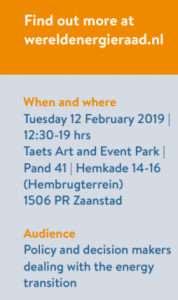 Building on our previous studies around Europe's opportunitieson its energy transition path, the WEC will launch a report: 'Hydrogen – industry as a catalyst, accelerating the decarbonisation of our economy to and post 2030'.
Decarbonisation of energy use is one of the biggest challenges facing industries globally. Energy usage both as a feedstock and as a source of heat and power need to be rapidly decarbonised with renewable electrons and molecules assuming a much larger share of primary energy consumption.
In this new report, we look at feedstock applications and energetic usage options of hydrogen in industries. The report explains how  developing hydrogen-based production and production processes in the industry can serve as a catalyst to substantial decarbonisation of the economies as a whole.
The report looks at pathways to make and use hydrogen much mor cost efficiently, and calculates what is needed to scale and scope up blue and green hydrogen applications, thus significantly accelerating the decarbonisation of our economies in North-West Europe.
Programme
12:30 – 13:00 Welcome coffee and registration
13:00 – 13:20 Opening speech and presentation report findings by Jeroen van Hoof, Chair WEC, The Netherlands
13:20 – 13:40 Keynote speech: Prof. Dr. Borchardt, Director Internal Energy Market, DG Energy, European Commission
13:45 – 14:15 Keynote speech: Wiebe Draijer, Chairman of the Managing Board, Rabobank
14:15 – 14:35 Keynote speech: Thyssen Krupp (invited)
14:35 – 15:10 Break
Main Programme Chairman: Emmelie Zipson
Breakout Sessions
15:10 – 16:10 Breakout sessions
Phasing from grey hydrogen towards blue towards green
Hosted by Catrinus Jepma, New Energy Coalition/University of Groningen with H-vision consortium | Ewald Breunesse, Manager Energy Transitions, Shell | René Peters, Director Gas Technology, TNO Energy
Industry politics
Hosted by Martijn Duvoort, Director Energy Markets, DNV GL | Joost Sandberg, Business Development Manager, Nouryon | Bas Bakker, Managing Director, Rabobank
Power to X study (the development of synthetic fuels from renewable energies)
Hosted by WEC Germany, Carsten Rolle and Christoph Menzel
Panel discussion and closing
16:20 – 17:15 Panel Dicussion with:
Alena Fargère, Economist Markets Strategy, Hydrogen Energy, Air Liquide
Bas Bakker, Managing Director, Rabobank
Prof. Dr. Borchardt, Director Internal Energy Market, DG Energy, European Commission
Jan Willem Velthuijsen, Chief Economist, PwC
17:15 – 17:30 Closing
17:30 – 19:00 Networking Drinks